OTR Offroad Car Driving Game AkkRab, One of the strengths of OTR Offroad Car Driving Game is its attention to detail. The game's environments are filled with obstacles and challenges that require careful driving and strategic planning to overcome. From muddy swamps to steep cliffs and winding forest trails, each course feels unique and challenging, keeping players engaged and on their toes.
The game also features a robust vehicle customization system. Players can choose from a variety of different vehicles, each with its own strengths and weaknesses.
They can also customize their vehicles with different paint jobs, decals, and accessories, giving them a personalized look and feel. Additionally, players can upgrade their vehicles with new parts and equipment, improving their speed, handling, and durability.
Another standout feature of OTR Offroad Car Driving Game is its multiplayer mode. Players can connect with others from around the world and compete in real-time races and challenges. This adds an additional layer of excitement and competition to the game, as players can test their skills against others and see who is the best off-road driver.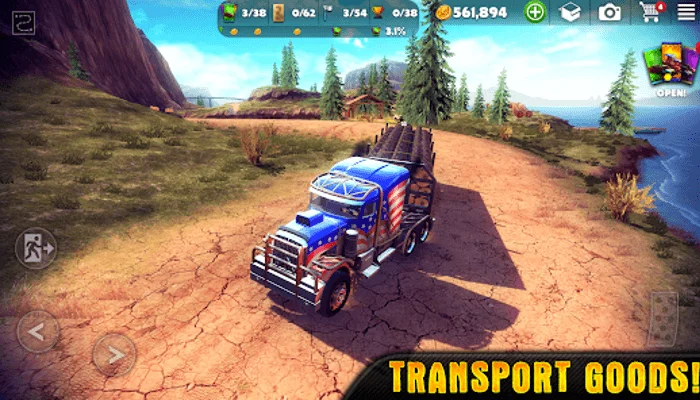 The game's controls are also well-designed and intuitive. Players can choose between touch or tilt controls, depending on their preference. The touch controls allow for precise steering and acceleration, while the tilt controls offer a more immersive driving experience. The game also includes a range of camera angles, allowing players to view their vehicles from different perspectives.
In terms of monetization, OTR Offroad Car Driving Game strikes a good balance between offering a free-to-play experience and optional in-app purchases. The game can be played and enjoyed without spending any money, but players can choose to purchase in-game currency to unlock new vehicles and upgrades faster.
The game also includes ads, but they are not intrusive and do not detract from the overall gameplay experience.
One potential downside of the game is its difficulty. While the game starts off relatively easy, it quickly becomes challenging as players progress through the career mode.
The game's physics can also be unforgiving at times, causing vehicles to flip or spin out of control if not driven carefully. This may make the game frustrating for some players, particularly those who are new to the genre.
Overall, OTR Offroad Car Driving Game is a well-crafted and engaging mobile game that offers a unique and challenging off-road driving experience.
With its attention to detail, customizable vehicles, and exciting multiplayer mode, the game is sure to provide hours of entertainment for fans of the driving simulation and racing genres. Whether you're a seasoned off-road driver or a casual mobile gamer, OTR Offroad Car Driving Game is definitely worth a try.